By BUD KOPPMAN at AllAboutJazz.com, March 10, 2006
Ramona Borthwick has produced in A New Leaf a marvelous album that is at turns melodious, swinging, deeply emotional and cool. Like Min Rager's Bright Road, it is brimming with energy and good vibes, and the compositions are first rate.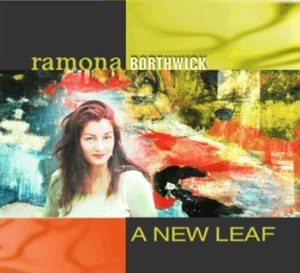 The choice of the title tune is always instructive, and the opening "A New Leaf", exposes Borthwick's many influences. Starting with a simple, Americana-ish figure, it swerves into a bit of what could be Chopin, only to shift immediately into a subtle Latin beat intro that leads to Phil Grenadier's first notes. The tune never stays put as Borthwick skillfully blends many styles with her piano work, including Southeast Asian and Brazilian influences.
It must be noted that Grenadier is a player to watch. His playing has a real genuine unpredictability about it, coupled with a trumpet tone that could be a flugelhorn at times.
"Garbarero" introduces some very sensual Brazilian scat from Esperanza Spalding, behind which Borthwick sings, but the tune will not let itself settle into anything that is simply Brazilian. Dark chords enter, and the tune shifts into a subtle groove for more playing from Grenadier who twists and turns over the ever changing rhythm. Noel Borthwick (Ramona's husband) also makes his first appearance on guitar, with a dark sound and a very fluid attack.
Another example of Borthwick's restlessness is "Home", which is a bigger composition, taking its time to define itself, as she allows the music to slowly build while it shifts rhythms subtly underneath. Almost a ballad, but not quite, it softly pushes forward, taking breath for the guitar solo, until the piano brings it home.
Things heat up on "Dark Secrets of Three Blind Mice" with an opening vamp on a pedal chord as trumpet and guitar trade lines. The melodic line is introduced by these instruments in unison and then we are off with piano playing over a very tight groove, leading to a guitar solo that just rips it and flies. Grenadier comes in to answer, taking his time, letting it grow, and Huergo (electric bass) gets his chance to solo. Quite a trip!
Brazilian scat returns in "Lotus Lake," which is the most overtly Brazilian tune that quite completely expresses the soul of that people, but the next track, "Indian Summer," takes a left turn with a darker sound, and another exquisitely crafted solo from Grenadier, which leads to another continually varying tune, "Ottawa Thaw."
Shape shifting and extremely warm, A New Leaf is a pleasure to listen to from beginning to end, and marks a terrific and important debut album from a fine composer and player who just happens to be a woman. Most certainly, Ramona Borthwick is someone to watch.
[view article online at: Jazz at Budds or at All About Jazz]