By BUD KOPPMAN at AllAboutJazz.com, March 10, 2006
Ramona Borthwick has produced in A New Leaf a marvelous album that is at turns melodious, swinging, deeply emotional and cool. Like Min Rager's Bright Road, it is brimming with energy and good vibes, and the compositions are first rate.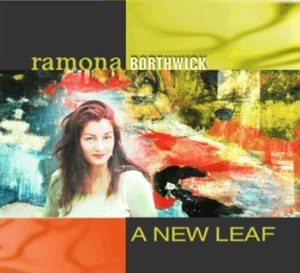 The choice of the title tune is always instructive, and the opening "A New Leaf", exposes Borthwick's many influences. Starting with a simple, Americana-ish figure, it swerves into a bit of what could be Chopin, only to shift immediately into a subtle Latin beat intro that leads to Phil Grenadier's first notes. The tune never stays put as Borthwick skillfully blends many styles with her piano work, including Southeast Asian and Brazilian influences.
It must be noted that Grenadier is a player to watch. His playing has a real genuine unpredictability about it, coupled with a trumpet tone that could be a flugelhorn at times.
"Garbarero" introduces some very sensual Brazilian scat from Esperanza Spalding, behind which Borthwick sings, but the tune will not let itself settle into anything that is simply Brazilian. Dark chords enter, and the tune shifts into a subtle groove for more playing from Grenadier who twists and turns over the ever changing rhythm. Noel Borthwick (Ramona's husband) also makes his first appearance on guitar, with a dark sound and a very fluid attack. Continue reading →