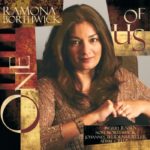 ONE OF US | Ramona Borthwick, Leitmotif 2010
By RAUL d'GAMA ROSE, Editor, AAJ | January 17, 2010
The wonderful music of One of Us dwells on the interconnection of all things. Pianist Ramona Borthwick and her quartet make this happen on two important levels. First, they play from the same script as if they had studied the pages and came to make each their own in a very special and individual way. Second, there is a seamless connection between each of the songs and the quartet's leader; Borthwick brings her considerable talent in weaving everything together with a secret gossamer thread. Both of these attributes speak volumes about the sensitivity with which each of the musicians handles the considerably—sometimes dense—material.
Ramona Borthwick proves that there is some depth among younger composers. Her bright work is agape at the immensity of all things. It appears that she looks at the world with childlike wonder, but is also privy to the true and deep nature of what she sees. This is reflected in the fluidity and the exquisite allure that is woven through each melody. Borthwick also leads and inspires colorful and artful harmonic invention throughout. She has a willing ally in trumpeter/flugelhornist Ingrid Jensen, whose memorable work here is absolutely magnificent; she plays each note as if it were her last. The result is solos like the music of dew on leaves—pristine, and each ringing with priceless wonderment.
The pianist's husband and guitarist, Noel Borthwick, never fails to surprise with the abject beauty and linear manner in which he moves the melody along. There is never a wrong step. Sometimes the guitarist seems just half a step behind, while other times he appears to race ahead to lead the melody into a new harmonic realm. His solos continually bring forth inventive ideas, which begin with interesting phrases and lines, and invariably open new avenues for the musicians to explore together or individually, as the music may demand. Bassist Johannes Weidenmueller and drummer Adam Cruz acquit themselves with distinction, too. Although seemingly unobtrusive, Weidenmueller makes his gentle, lyrical presence felt on several tracks, especially on "Garden of the Gods" and "Retrospeak." Cruz has near-perfect technique and always seems to find the rhythmic center of each piece, moving it this way and that to create constant movement and surprise, bringing "Rio Alegre" alive with infectious joy.
The song titles might be simplistic in their efforts to unite the theme of the record. But then the approach is so close to the childlike wonder of the size and scope of all things that eventually it all comes together in the end. Along the way there are memorable stopovers: the mystery of "Chinese Whispers," a game children play that can come to an odd end. Then there is the centerpiece "One of Us," surrounded by two acolytes, "Gaia" and the mystical, "Garden of the Gods"—all three going a long way in making up this work of considerable beauty.