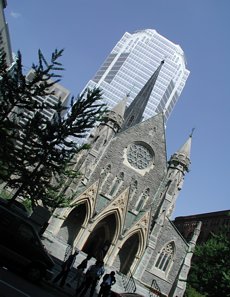 [This article was published in the August 2007 issue of the Qatar-based feature magazine 'New Era'.]
Attending the Montréal Jazz Festival in Canada has been a musical pilgrimage of sorts for me since emigrating to the West in 1994. A musical marathon, this festival spans eleven days and nights in the summer, turning the Western hemisphere's largest French-speaking capital into an entertainment mecca for everyone from aficionados of pure jazz to its musical offshoots. By providing entertainment and plenty of other distractions to approximately two and a half million people, this festival overshadows both Canada Day and the Fourth of July, two big holidays in North America, with the European ambience strong enough to make one forget about anxieties south of the border such as war and terrorism.
Journeying from Boston northward through New Hampshire's craggy granite White Mountains and the rolling pastoral hills of Vermont's Green Mountains, the journey to Montréal takes approximately six hours by road. The interstate highways are beautiful and well maintained, the scenery awesome, and I've always reached Montréal fresh enough to venture out to the Festival venue immediately. My stay was at a cheerful little bed and breakfast in the Latin Quarter, just off Rue Denis, a street famous for its sidewalk café's, bars and ethnic restaurants, making for a pleasant 15-minute walk to the festival venue. Rounding the corner onto St. Catherine's Street brought an eclectic urban mixture of fast-food joints, art supplies stores, nightclubs, sex shops and a church or two.
The festival site encompasses the downtown core, four blocks of which are closed to traffic for the duration of the event. This certainly makes pedestrians feel special! With ten free outdoor stages set up on streets and in parks, as well as some dozen indoor venues (one usually pays for these) located in the same area, there are roughly 50 concerts per day showcasing around 3000 musicians and street performers. Impressive too is stage and sound setup at various venues. Being an outdoor festival it is prone to the vagaries of weather, but the technical and sound engineers are armed and ready for the occasional downpour and high winds. Preceded by a daily New Orleans style parade, shows start at 6PM and end at midnight, with audiences standing shoulder to shoulder in front of raised stages. There are many food and beverage vendors in the area and it is great fun to grab a hot dog and 'poutine' (a calorie laden Québécois comfort food consisting of French fries and fresh cheese curds topped with hot brown gravy) and wander through the festival. Getting a seat at a nearby restaurant to watch a show is practically impossible, unless you want to wait in queue for an hour and miss the musical acts.
The artists featured this year were a mixed bag – Bob Dylan, Keith Jarrett, Harry Connick, Jr., Cesaria Evora, Wynton Marsalis, Manu Chao, Zachary Richard and Francis Cabrel. The Invitation series (a series that runs through the duration of the festival) featured hosts Richard Bona and Mike Stern playing with other invited artists of their choice. Mega outdoor concerts included an Afro-beat party with Seun Kuti; a Brazilian carnival with Carlinhos Brown, and an Arabian evening featuring Rachid Taha. The festival is also known to be a launching pad for careers of lesser known acts, and this year it was bassist-singer Esperanza Spalding who impressed the crowds with her talent.
Promoted as a global 'jazz' festival – not all the music is jazz – there's world, blues, rock and roll, funk, hip-hop, reggae and of late, even rave music and DJ's on stage. I've noticed that in the past few years, the festival has been bringing in fewer jazz artists to perform. This year, by and large, would have been better termed generically a 'music' festival, with the occasional jazz thread running through. Many Montréalers feel that the "Festival International de Jazz de Montréal" has become too large for its own good, with the organizers being acquiescent to large sponsors who prefer to market their products rather than promote jazz artists and have the public listen to real jazz . The late night jam sessions at the Hyatt have a worn out air about them and participation by visiting artists has dwindled to a trickle. I miss the passion and creativity that was flying at these sessions during my earlier visits here.
As a musician, it was interesting to see two new side shows at the festival: the Montréal Musician and Musical Instrument Show (MMMIS) showcasing vendors in the music recording and software industry along with makers of digital instruments and gear; and the Montréal Guitar Show, where luthiers from all over the world exhibited their hand-crafted instruments.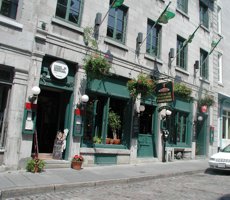 I'd like to believe that jazz is the force that binds this festival together. I've heard tons of great music here that was celebratory, healing or cerebral; in settings from intimate duets to big bands. There have been bands from Scandinavia, Eastern Europe and Russia, artists from countries not usually heard in the US. My expectations to feast on a platter of jazz at this festival have diminished through the years, and to a certain extent I admit there's a sense of disappointment. However, it's the idea of a vacation combined with music that makes this trip worth repeating every year.
So, the abundance of music paired with lazy mornings followed by walks on the cobblestone streets of Old Montréal, sipping beer brewed in-house in large copper vats, tasting delectable treats at local patisseries and chocolatiers,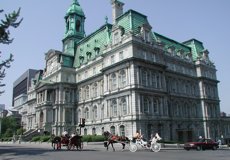 sampling fresh produce at the farmers market and window shopping in Montréal's trendy, chic malls, the International Jazz Festival of Montréal is a great place for music lovers who like also like to party on vacation. I know I'll be returning next year.
Ramona Borthwick is a jazz pianist who was classically trained. She lives in Boston, MA where she performs and teaches. Visit her on the web at: www.ramonaborthwick.com.